Can Wind Damage Your Roof?
Property owners in Peachtree City sometimes wonder whether or not the type of winds we experience in this area can damage a roof. We often look at our neighbors to the south and see hurricane-force gales, and imagine that can't happen around here. But the truth is, it doesn't take a hurricane to experience wind damage. It is quite common for a hurricane in the Gulf or Atlantic to reach Peachtree City as a powerful tropical storm. These wind events see downed trees, toppled power lines, and significant wind damage to roofs. Even our local summer thunderstorms have gusts powerful enough to rip off shingles, especially from older roofs. So can wind damage your roof in Peachtree City? Unfortunately, roofing contractors will reply that the answer to that question is a resounding, "Yes!"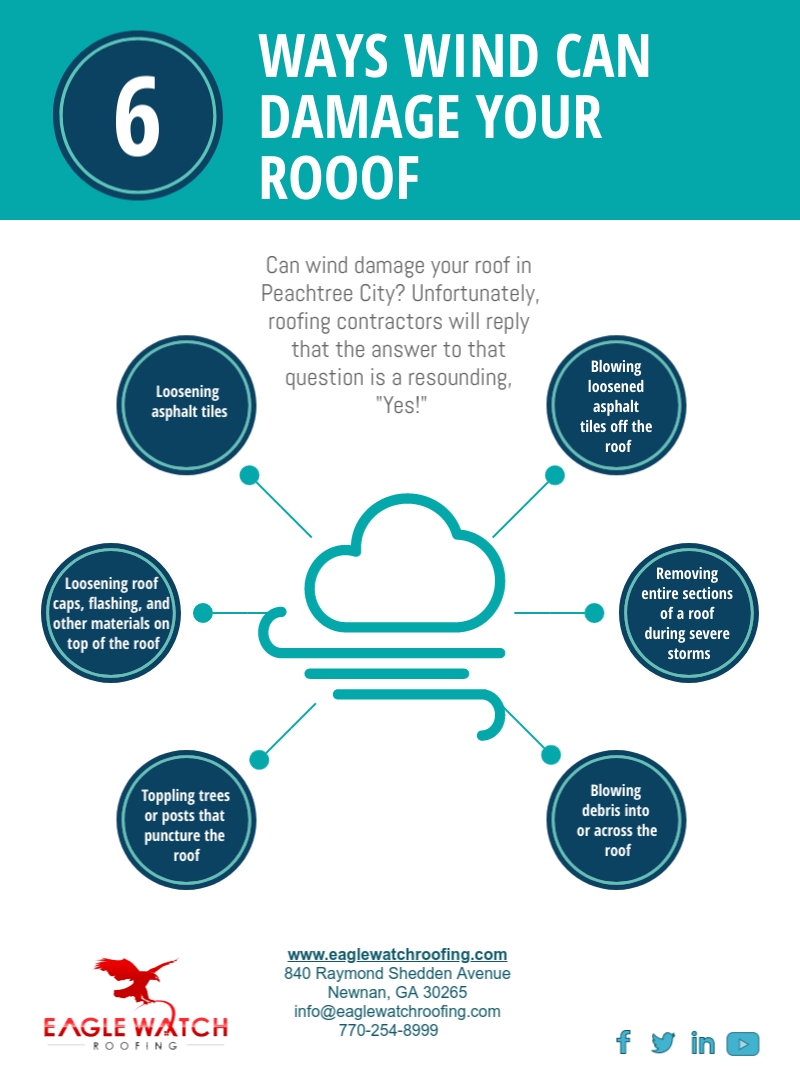 Roof Damage
There are many potential sources of roof damage, and wind damage is just one. High winds create roofing problems in some locations, and that includes Peachtree City and the whole Atlanta Metro Area. However, winds do vary, and it goes without saying that hurricane winds are much stronger than anything we see around here. So what are the chances of wind damage in Peachtree City? It depends on the roof you start with.
Manufacturers usually design roofing materials and sealants to withstand specific wind velocities. Homeowners in regions that sometimes experience high winds frequently request roofs with higher levels of wind-resistance. But the class of roof you need depends on the local weather. Typically, roofs that can withstand higher wind speeds are more expensive, so it doesn't make sense to install a higher class roof than you need.
Class "A" materials for sealing asphalt shingles protect against 60-mile-per-hour winds, while Class "H" materials typically withstand winds as high as 150 miles per hour. An experienced roof installer can evaluate construction materials and match them to local area conditions.
Examples of Wind Damage
Strong winds may damage roofs in a variety of ways. Some illustrations include:
Loosening asphalt tiles;
Blowing loose asphalt tiles off the roof;
Removing entire sections of a roof during severe storms;
Blowing debris into or across the roof;
Toppling trees or posts that puncture the roof;
Loosening roof caps, flashing, and other materials on top of the roof.
Any of these scenarios hold the potential to create long term wind damage to a roofing system.
Sometimes all it takes is a very fine puncture in the surface of the roof caused by high winds or blowing debris. That small damage might eventually permit water to penetrate the roof into the attic or interior of the home. In many cases, leaks begin as pinpoint holes through the shingles and into the wood beneath. From there, they expand as rainwater or mold gradually destroys healthy adjoining surfaces. Roofing contractors recommend repairing this type of wind damage quickly.
Protecting Your Roof from Wind Damage
If high winds have impacted your roof, your local contractor in Peachtree City remains ready to help. Don't hesitate to contact Eagle Watch Roofing to request assistance in this situation. Repairs performed quickly following a weather-related roofing emergency sometimes prevent the development of additional, expensive roof damage.