Our Top 4 Roofing Trends for 2019
The new year is here, and all sorts of industries are looking at the top trends for the year ahead. Often, when we think of trends, we think of clothing fashions, but roofs are just as subject to trends as any other product. Your roof is a large part of the exterior appearance of your home, so it's worth paying attention to its looks. Different types of roofing, different materials, and different colors can drastically affect the overall style of your house. Besides appearances, roofing also plays a significant role in the value of your home, its efficiency, and its durability. So with that in mind, here are our top 5 roofing trends for 2019.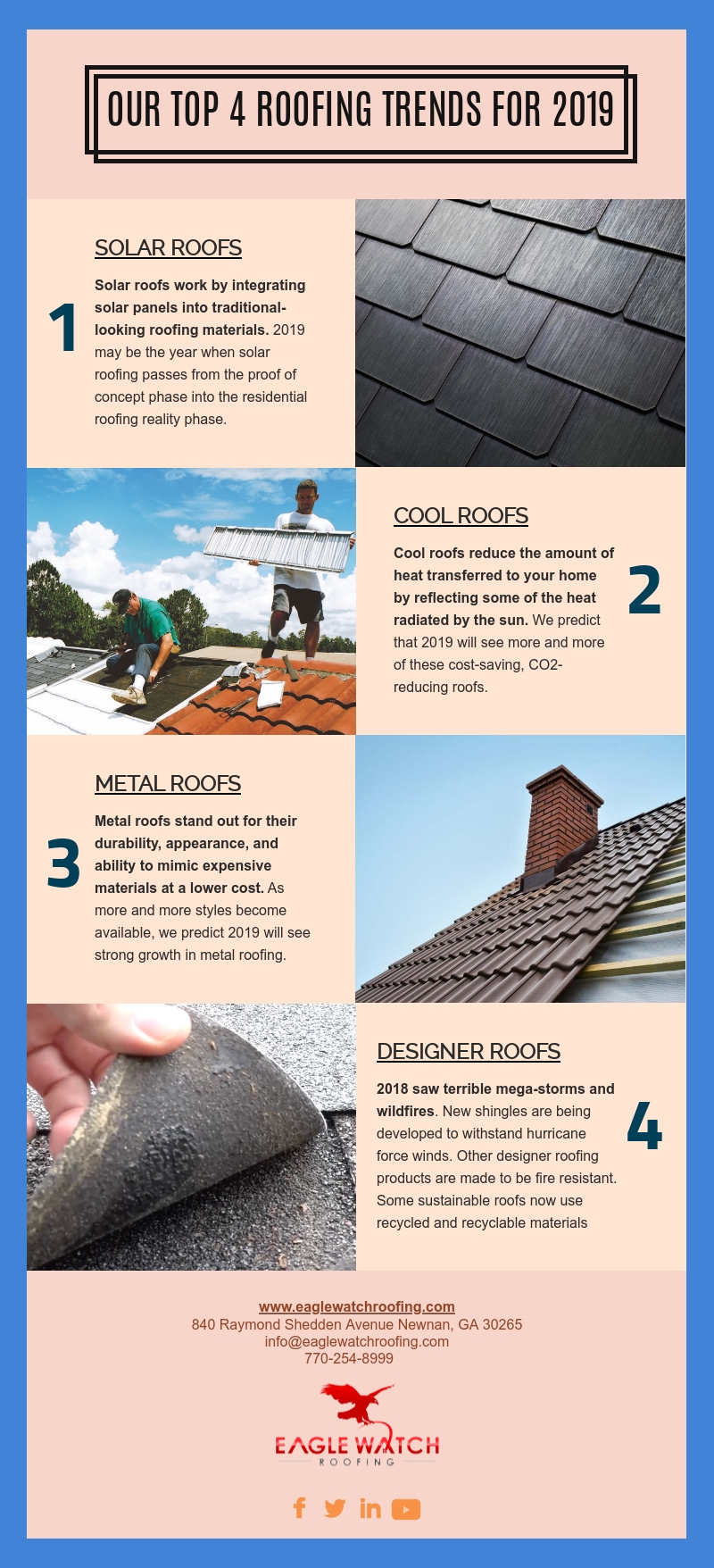 New Roof Trends in 2019
Whether you are building a new home or replacing the roof on an older home, 2019 is a great year for new roofs. Exciting things are happening in the world of roofing. New technologies are changing the way we think about roofs, and are creating new options and possibilities. If you are considering a new roof in 2019, here's what to look out for.
1. Solar Roofs
Like any good trend, this one is hot. It's all over the news, nearly prohibitively expensive, and hard to get. The solar roofing buzz is significant, though, as we go into 2019. This may be the year when solar roofing passes from the proof of concept phase into the residential roofing reality phase.
Solar roofs work by integrating solar panels into traditional-looking roofing materials. The manufacturer that is grabbing all the headlines is Tesla, though there are others. Tesla's solar roofing comes in the form of glass shingles that are made to look like traditional roofing tiles. Eventually, there will be several styles available, though currently, options are very limited. In addition to the limited options, the quantities are limited. Like their flagship vehicles, Tesla solar roofs have been slow to roll out. They started taking deposits on the new roofs in May 2017, but one year later only 12 roofs were on the grid. However, the company claims that there are several hundred homes in the process of installation.
2019 may be the year that makes the difference. The company is profitable now, which means they may be able to ramp up production. However, the costs are still prohibitively high. A solar roof costs $42 per square foot, more than even the most expensive traditional roofs. Tesla recommends 35% solar tiles, which brings the price down to $21.85 per square foot, but that's still expensive, and it is unclear if that includes installation.
There is some competition to Tesla. Forward Labs makes a metal roof that works as a solar panel at half the cost, though not the entire roof is solar. We look forward to seeing how 2019 shapes up for solar roofs.
2. Cool Roofs
While they may not generate energy like solar roofs, cool roofs can definitely reduce your utility bills. And unlike solar roofs, cool roofs are here today. In fact, cool roofs have been a growing trend for a while, and we predict that 2019 will see more and more of these cost-saving, CO2-reducing roofs.
Cool roofs are not a single type of roof. Instead, cool roofing is more of a technique than a material. Cool roofing can blend several different methods of reducing heat transfer from the roof to the structure below.
Heat is transferred from the sun to your roof in a process called radiation. Once the radiated heat from the sun heats the roofing material, the heat is transferred to the structure below in a process called conduction. Conduction is the transfer of heat that occurs when two bodies, one hotter and one cooler, touch each other. The heat collected the sun is transferred to the structure below, which increases the temperature inside and the energy needed to cool your home.
Cool roofs reduce the amount of heat transferred to your home by reflecting some of the heat radiated by the sun. The less radiation the roof absorbs, the less it heats up, and the less heat it conducts to the structure below. The simplest cool roofing technique is just to use light colored materials that reflect more of the sun's heat and stay cooler. Another method is to put highly reflective materials, like metal foil, underneath the roof, or even in the attic. The foil reflects even more heat from the sun. Finally, some materials, such as metal, naturally reflect more heat than other materials, such as asphalt.
3. Metal Roofs
As we mentioned, metal roofs are considered cool roofs due to their natural tendency to reflect much of the sun's heat. But they have a lot more going for them just that. Metal roofs stand out for their durability, appearance, and ability to mimic expensive materials at a lower cost.
Metal roofing has come a long way from the corrugated metal typical of barns and sheds. Today, many metal roofs don't look like metal at all. One of the most appealing features of metal roofs is their ability to look like almost anything.
The most traditional type of metal roof for residential and commercial use is the standing seam roof. A standing seam roof uses large panels that extend from ridge to eave. The sheets are attached with raised seams that give the style its name. Standing seam roofs shed water quickly and easily, and the standing seams prevent seepage where the sheets meet. The smooth sheets also allow snow to slide off, preventing dangerous buildups in areas with heavy snow.
In addition to standing seam, metal roofs are made to mimic the look of shake, tile, and slate. Metal has various advantages over these products. It is cheaper and more durable than shake. Metal is also less expensive than tile, though not as durable. It is much less expensive than slate and also weighs less, eliminating the need for added structural supports. The paint on metal roofs can wear off over time. However, repainting a metal roof can easily extend its life.
Copper roofs are a specialty type of metal roof. Copper is almost always meant to look like copper and not to mimic another material. It is a classic roofing material that weathers to a beautiful patina and is often used in high-end homes and buildings.
4. Designer Roofs
Like cool roofs, designer roofs are not a single type of roof. Instead, designer roofs encompass a wide range of styles and materials. What sets these roofs apart is their uniqueness and high-quality construction.
Designer roofs are manufactured for various specific qualities. Some designer roofs are built for durability in particular environments. For instance, traditional asphalt shingle is notoriously flimsy. However, new asphalt shingles are being developed to withstand hurricane force winds. After a 2018 that saw billions of dollars in damage from extreme megastorms, these designer shingles are catching on as people rebuild. Using adhesives, fasteners, and manufacturing techniques designed for high winds, these roofs are much less likely to sustain major damage in even the worst storms.
Other designer roofing products are made to withstand fire. 2018 saw some of the largest and most destructive wildfires on record. As homeowners and entire communities rebuild, a lot of attention has focused on just how these fires spread. Often, blowing embers set highly combustible buildings ablaze, while more fire resistant buildings right next door withstood the flames. So in place of wood shake or even traditional asphalt, many new homes are being built with roofs made of metal, concrete, and other less combustible materials.
As homeowners become more environmentally conscious, some designer roofs now use recycled and recyclable materials. Synthetic roofs made of recycled tires are designed to look like many different natural materials. Steel roofs are also commonly made of recycled scrap metal and can be recycled again when they need to be replaced. As sustainability becomes hip, we predict that this trend will only grow in 2019.
Replacing Your Roof in 2019
If 2019 is the year of the new roof for your home, contact us to set up your free consultation. We can walk you through your options, from different roofing materials to financing options. Eagle Watch Roofing is your source for reliable, quality roofing at a great price.