Reasons Not to Wait on Roofing Repairs
Ignoring the signs that your roof needs repair could be costly to you in the long run. Here, we look at three common reasons not to wait on roofing repairs. If your home or building is located in a climate with a high degree of precipitation or strong winds, getting on top of repairs early is even more critical.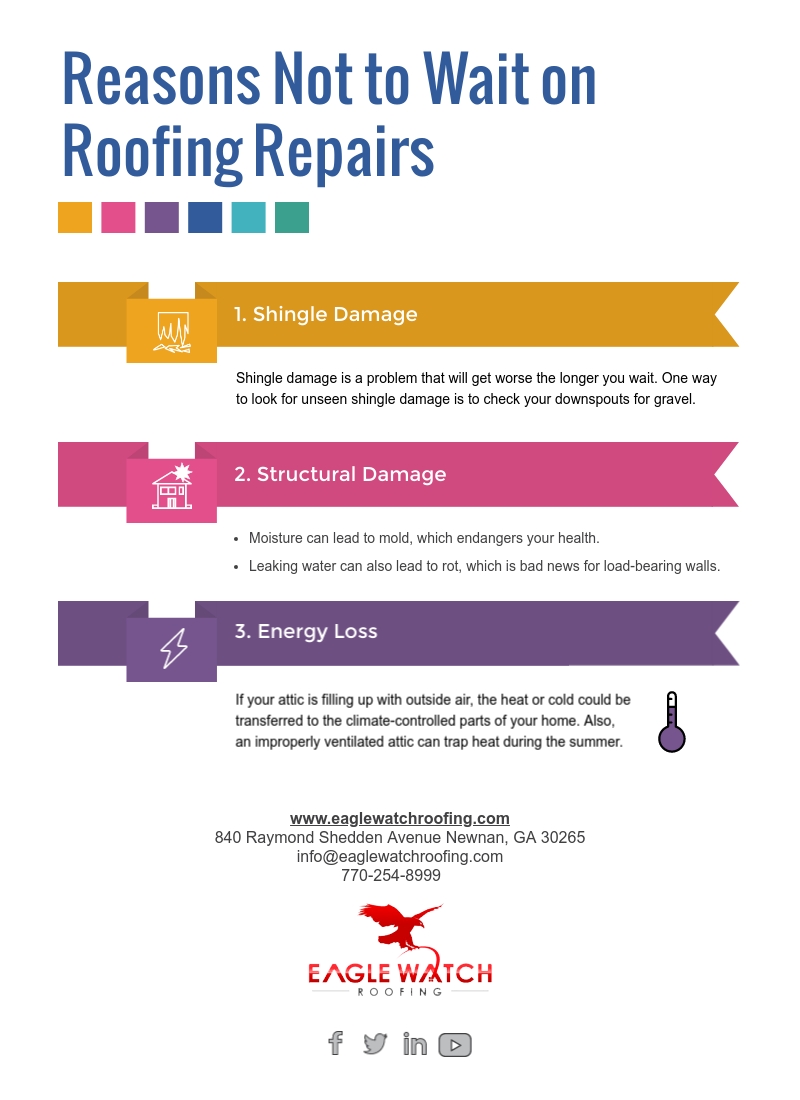 1. Shingle Damage
Shingle damage is a problem that will get worse the longer you wait. If there is a hurricane or a bad storm in the area, you may notice that a few shingles blow off the roof. After a visual inspection of the roof, you may discover that more shingles are breaking loose. That could be a sign that the roof is old and in need of repair.
One way to look for unseen shingle damage is to check your downspouts for gravel. Asphalt shingles are covered in a gravelly coating to protect the asphalt from the sun. As the shingles age or are damaged the coating can come loose. In a heavy rain, the loose gravel is washed into your gutters and collects at the bottom of the downspout. If you see signs of gravel at your downspouts, your shingles may be losing vital protection.
2. Structural Damage
Even a small leak in your roof can turn into significant structural damage. Just a few missing shingles or holes and cracks in the roof covering can expose underlying layers of the roof to water damage. Leaking water or excess moisture that penetrates the roof and continues into the building envelope can be dangerous. Moisture can lead to mold, which endangers your health. Leaking water can also lead to rot and other types of structural damage, which are bad news for load-bearing walls.
3. Energy Loss
Keeping your attic and roof sealed off from the rest of your house can dramatically improve your energy efficiency. If your attic is filling up with outside air, the heat or cold could be transferred to the climate-controlled parts of your home. Also, an improperly ventilated attic can trap heat during the summer. Poor ventilation can also lead to condensation and other moisture that causes leaks and structural damage.
Start Now
Eagle Watch Roofing, your Peachtree City roofer, is qualified to come to your property and inspect the roof. We will provide a free estimate that explains all services that would be required to fix your roof. We can also help you decide if a full roof replacement is a better investment of your hard-earned dollars. Thank you for your interest in our roofing services.