Today, many homeowners search for ways to enhance the appearance of their properties. One excellent way to improve your curb appeal and make your home look fresh and appealing is to focus on your roof. Did you know that your roof can account for up to 40% of the curbside view of your house? That's why our customers have been so pleased with the great new look of the Owens Corning shingles we install. Both functional and exceedingly attractive, specialized roofing systems designed by the famous Owens Corning company contribute to the look of residential neighborhoods across the United States. Long-lasting, versatile roofs allow a property owner to highlight the best features of a home's exterior. At the same time, you can enjoy exceptional protection for the interior of your.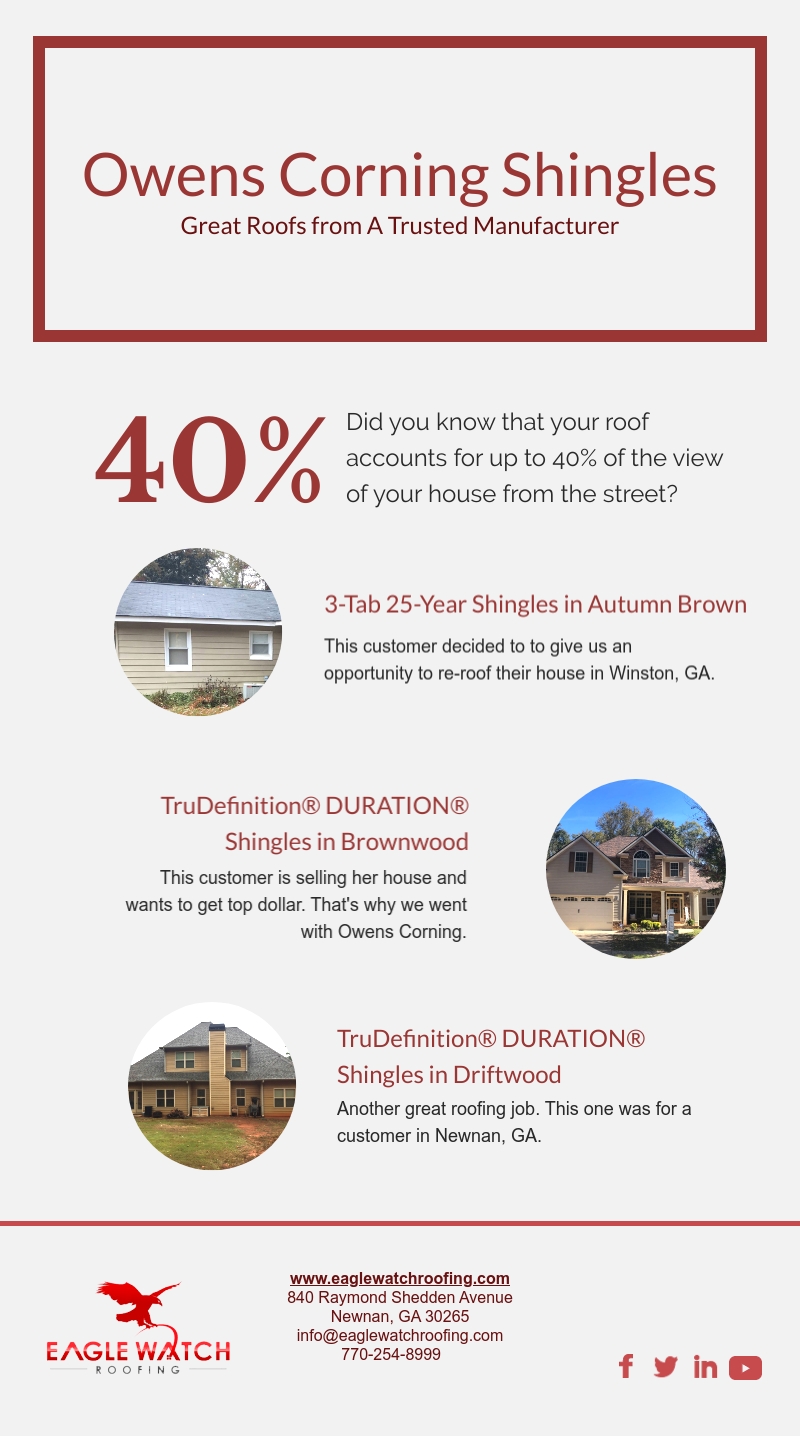 A Trusted Manufacturer
For generations, homeowners in the United States have relied upon the innovative, well-designed building products supplied by the Owens Corning company. In 1938, the firm helped develop fiberglass fibers for construction. The company patented Owens Corning™ Roofing shingles in 1965 after extensive research. Today, Owens Corning continues to produce some of the best roofing shingles available. That's why we recommend their products to almost all of our customers.
Owens Corning shingles set a new standard for durable, long-lasting asphalt and fiberglass roofing materials. The unique formulation of the asphalt brand used in the shingles contributes to the ability of the product to withstand many years of exposure to a variety of weather conditions. Typically, roofing shingles take a beating from nature, and over the years, they begin to disintegrate. Freeze and thaw cycles, pounding rain, falling debris, and even UV rays in sunlight can eat away at your roof. Owens Corning products are built to handle everything nature throws at your roof, with results you can see.
Modern Roofs with Owens Corning Shingles
Today, the Owens Corning company continues to manufacture the highest quality building products. Its roofing systems have received high praise due to their versatility and beauty.
You'll find Owens Corning shingles in a number of different colors. We'll help you choose exactly the right combination of textures and hues to enhance the curb appeal of your residence. Check out the Eagle Watch Roofing Facebook page to see some examples of Owens Corning shingle roofs we installed.