Getting Ready For Winter Storms
Winter storms can be a significant inconvenience. But the more prepared you are for these weather nuisances, the less likely you are to suffer severe damage. If you want to be ready for upcoming winter storms, there are several things you can do in advance for peace of mind. Besides taking care of your family and loved ones, it's important to take care of your roof. Preparing your roof for winter will reduce the chances of severe damage in a storm. If your roof has been damaged, you need a roofer you can trust, whether you're in Peachtree City or around the Atlanta Metro Area. You can depend on Eagle Watch Roofing. We can even help with an insurance claim.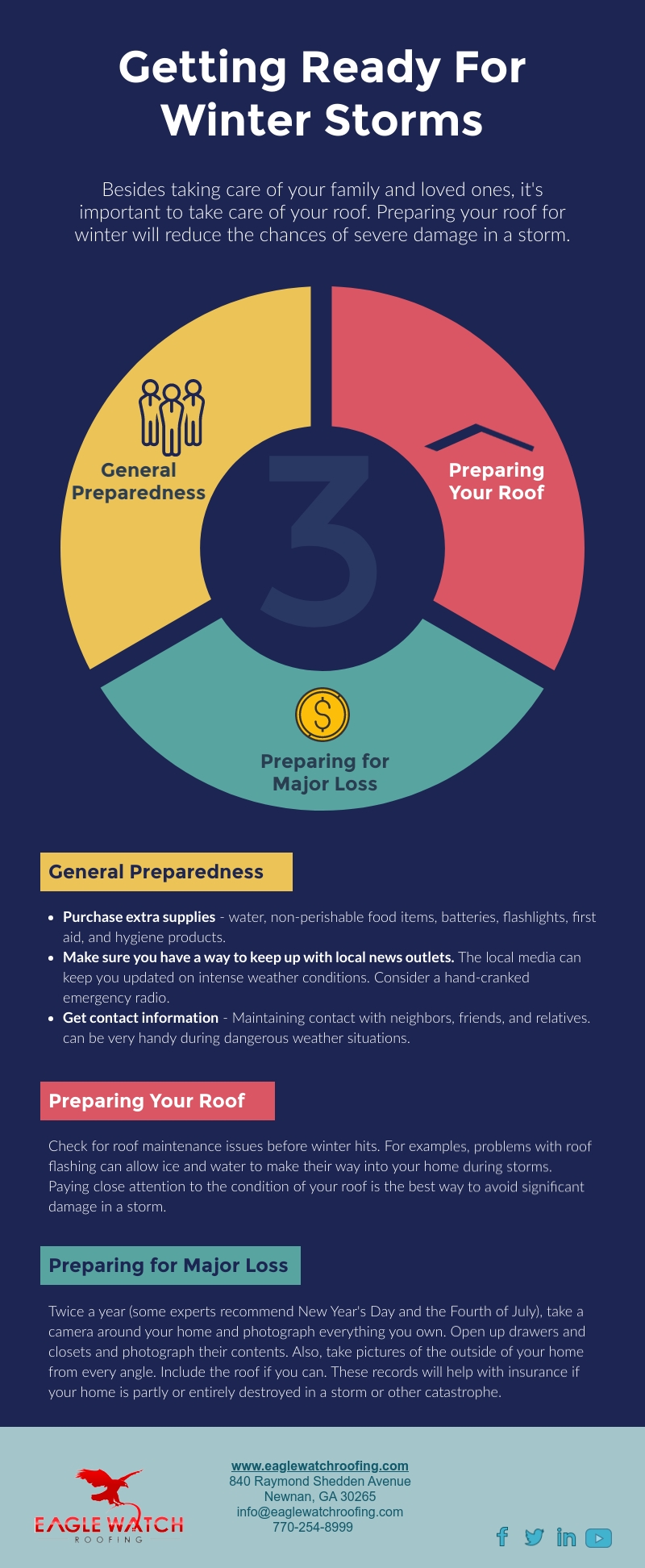 General Preparedness for Winter Storms
You should always consider the condition of your roof as we enter the winter storm season. But your safety and the safety of your loved ones is even more critical. You can prepare for winter storms in the following ways:
Purchase extra supplies. Since winter storms can keep you stuck at home for several days, you need to stock up on necessities. Make sure you have water, non-perishable food items, batteries, flashlights, first aid, and hygiene products.
Make sure you have a way to keep up with local news outlets. The local media can keep you updated on intense weather conditions. These include television, radio, and local emergency assistance sites. In case of a power outage, consider a hand-cranked emergency radio. It is also a good idea to keep charged backup cell phone batteries available for use in emergencies.
Get the contact information for your neighbors, friends, and relatives. Maintaining contact with others in your area can be very handy during dangerous weather situations.
If you're smart and well prepared, successfully getting through a winter storm is definitely possible. Although winter storms are disruptive to daily life, there are ways to make dealing with them significantly easier and more hassle-free.
Preparing for Roof Damage
Major storms can potentially cause a lot of damage to your roof. It is crucial to always carefully assess the condition of your roof after a major storm. Noting damage as quickly as possible will keep you safe in case of significant damage. It will also make it easier to file for insurance coverage.
It's also very wise to try to defend your roof before winter storms. Roof maintenance before winter storms can be helpful for other reasons, too. If you have any issues with your roof flashing, for example, replacing it before winter settles in is a good idea. Problems with roof flashing can allow ice and water to make their way into your property during storms. If you want to avoid the hassles of water damage and other issues, then paying close attention to the condition of your roof is, without a doubt, the way to go.
Preparing for a Major Loss
It is always good to be prepared in case of significant damage to your home from a storm or other catastrophic event. One of the best things you can do to prepare is to have a list of everything in your home. Twice a year (some experts recommend New Year's Day and the Fourth of July), take a camera around your home and photograph everything you own. Open up drawers and closets and photograph their contents. Also, take pictures of the outside of your home from every angle. Include the roof if you can.
Once you have everything recorded, store the photos someplace outside of your home. You can put it all on a flash drive that you keep in your office or at a friend's home, or you can upload it to a cloud service. Just make sure you will have the photos, even if your house is entirely destroyed.
Document the Damage
In case of catastrophic damage to your home, your photos will serve as the primary record for making an insurance claim. Proper, complete records can make the difference between a full recovery and a significant loss. It's also a good idea to keep receipts for any repairs or replacements that you make.
Have a Professional Roofer You Can Trust
If you think your roof has been damaged during a winter storm, it's important to have it inspected by a professional roofer. A qualified roofer will be able to tell you if the damage is cosmetic or if there is structural damage that needs to be repaired. They can also make recommendations on how to prevent future damage.
After any major or minor damage to your roof, contact Eagle Watch Roofing. We'll inspect your roof and help you navigate the insurance process if necessary. We know how stressful it can be to deal with damage to your home after a major winter storm, especially around the holidays. That's why our team works quickly to get you a quote on repairs, and we handle the headache of insurance adjusters. Just give us a call!