Get Ready for Winter Storms
Growing up in Southern Georgia, I've seen my fair share of storms. The one I remember most vividly happened when I was eleven years old. I remember camping out in the basement with my mom and four siblings. She was worried sick about my dad, who happened to be on his way home from work when the storm hit. Thank goodness he was okay, and the only damage we suffered was one broken window and a torn apart roof. Ever since that day, we've been prepared for storms, even the worst winter storms. Here are a few key steps we implemented as a family to get ready for winter storms.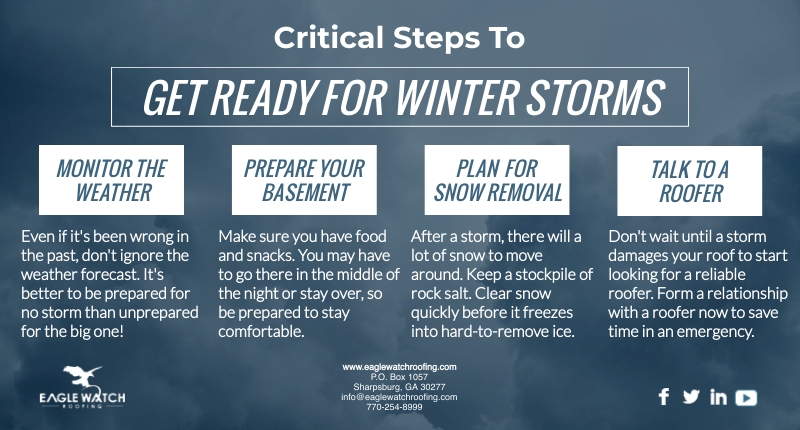 1. Make a habit of checking the weather report.
If the weather report shows a major storm coming in, prepare for it, even if some reports have been wrong in the past. Make plans to be at home or in an area where you can find safe shelter. If at all possible, avoid driving near the time the storm is supposed to hit. Try to make it home or to a safe place at least an hour before the suspected storm. It can be tempting to try to make it until the last minute before the storm hits. But forecasts are never perfect to the minute, and it's better to be safe than sorry. If you've lived through a few false alarms, you may not take each new forecast seriously. But don't get caught unprepared when the big one hits. It's always better to be overprepared than underprepared.
2. Keep extra blankets and snacks in the basement.
Storms can be unpredictable. They can come in the middle of the night or last for hours. If you have to camp out in your basement for the night, you'll want to make sure it's comfortable. You wouldn't want to be tempted to run back upstairs for anything. Accidents happen in a moment, and you don't want to be in the wrong place at the wrong time. If you have kids, have plenty of snacks available. Always keep healthy, shelf-stable food on hand in case you need a meal or two while you shelter in the basement. Even if the food is supposed to be shelf-stable, check its freshness every autumn to get ready for winter storms.
3. Make plans for salting and snow removal.
Once you've braved a winter storm, the last thing you want is a lawsuit because a neighbor slipped on your sidewalk. And when you are finally able to venture out again, you don't want to get stuck in your driveway. Make sure you have plenty of salt available to remove the ice and snow from your sidewalks and driveway. When it is safe, get outside and clear the walkways as soon as possible. If you wait, you may end up with more ice than snow, making removal much harder.
4. Contact a roofing contractor and get an estimate.
There's no way to tell when a winter storm will cause so much damage that you need a new roof. If you find yourself needing a new roof, it's good to have an idea of the cost. It's all useful to know a specific contractor you're comfortable with. Eagle Watch Roofing is a reliable provider of roofing repair and replacement. It's not a bad idea to contact Eagle Watch Roofing ahead of time to form a relationship with a roofer you can trust. This takes a lot of stress off of you in the event that you need a new roof because of a winter storm.