Don't Wait to Fix Roofing Problems
If you have any problem with your roof, you should call a skilled and experienced roofing contractor to take care of the matter. Never wait to fix roofing problems. If you need the assistance of a roofing contractor in Newnan, GA, help is always just a quick phone call away.
There are many reasons to seek professional assistance for roofing issues promptly. Depending on the problem, the results of waiting can vary. But it's never good. If you allow roofing troubles to persist, they could intensify. This can make repair work significantly more complicated. It can also make repair work cost more. If you want to keep your roofing woes under control, quick and efficient professional service is vital.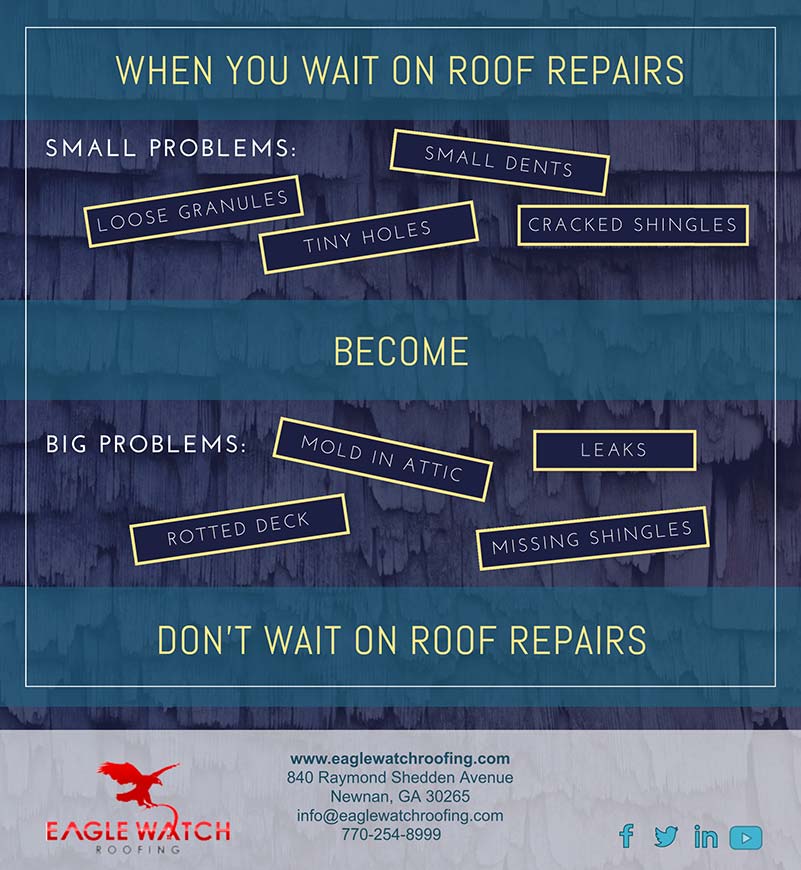 Shingle Problems
If you ignore problems with your shingles, you are setting yourself up for seriously expensive repairs. As your roof ages, minor shingle damage is expected. Hail or blowing debris in a storm can cause pocks and small dents in your shingles. Sweeping branches can scrape the protective granules of an asphalt shingle. The combined force of wind and rain over the years can wear holes and cracks in perfectly good shingles. Each of these types of damage is part of normal wear and tear. As long as you don't wait to fix roofing damage like this, your roof can last for decades. It's only when you ignore roofing problems that they grow into severe damage requiring expensive interventions.
Safety First
Roof repair work can be dangerous. It involves being high up on a roof, and the potential for falls is always present. Trained roofers use specialized techniques and equipment to maximize their safety while they work. But homeowners often have neither the skills nor the equipment they need to stay safe. If you want to keep safe (and keep your property safe, too), then you need to get service from a trained and experienced roofing contractor.
Roofing contractors have a lot of experience in managing roof jobs. They can get the work done efficiently and correctly without risking their safety. Don't risk your well-being and safety just to avoid having to call a professional roofing company. It's simply not worth it. Roofing repair work can also be cumbersome and complicated. These are all excellent reasons to leave roofing service to skilled professionals.
Finding the Right Roofer
These tips can be extremely helpful if you want to find a high-quality roofing contractor you can trust.
Protect yourself by only working with insured roofing contractors. Liability insurance, for example, is vital.
Work with a local company. Find one that is highly respected in your neighborhood. Get recommendations from local people you trust.
Opt for a roofing company that is all about strong communication. Working with a roofing business that isn't responsive is never a good idea. Healthy communication is key to getting the roofing results you want and deserve.
If you know what to look for, finding a great roofing contractor doesn't have to be tough. If you want to work with a dependable roofing contractor in the Newnan area, give our well-regarded company a call. We're here to service you. So don't wait to fix roofing problems. Call us or contact us online today!