Do You Really Want to DIY Your Roof?
Do you really want to DIY your roof? Let's cut to the chase and tell you that the answer is an emphatic, "No!" Unless it's a question of replacing a shingle or two, you're better off staying on the ground. Repairing and especially replacing a roof is well outside the skill set of an average homeowner. Not only that but going up on a sloped roof without safety equipment is not advisable—we certainly don't do it! Even a nail gun, which you might be tempted to rent, is hazardous if you're not used to using one. It is almost always better to call a roofing professional like Eagle Watch Roofing for roof replacements and repairs.
But just in case you had any question, here's the long answer. Not just why you shouldn't DIY your roof, but why Eagle Watch Roofing is the best choice to fix your roof.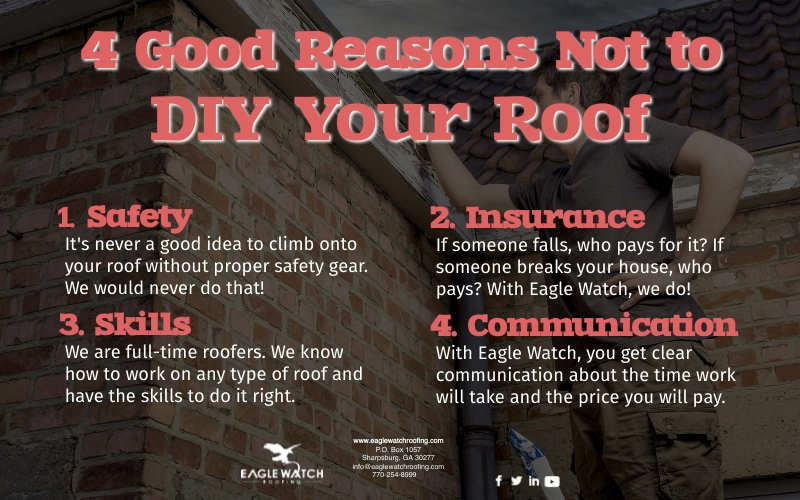 Our Workers Are Fully Licensed and Insured
What happens if you climb up onto your roof and lose your balance? If you're lucky, it's just some bumps and bruises. But falls from roofs often result in serious injuries. Besides the bodily damage, a severe injury from a fall could put you out of work and rack up huge medical bills. Your health insurance might help, but medical debt is one of the leading contributors to personal bankruptcies in America. Why put your body and your wallet in danger?
Our roofing professionals are fully licensed, insured, and covered by worker's compensation. We will happily show all certificates and licenses to our customers upon request. What that means for you is that any injuries sustained on the job are covered by Eagle Watch Roofing, not by you. We put safety first, and all of our employees are trained and use protective equipment. But in case of an accident, you'll be glad to know you're not on the hook.
Licensing and insurance are critical for any contractor you hire, but some fly-by-night roofers don't have them. If you hire an uninsured roofer and someone makes a mistake, you're on the hook. Whether the mistake results in damage to your home or injury to a person, you're the one to pay for it. Also, unlicensed contractors can't apply for permits, which means any work they do is technically illegal. If the city our county finds out about it, you could be fined or even asked to remove the unlawful construction.
We Know the Area
Eagle Watch Roofing serves customers around Newnan, GA, and the entire Metro Atlanta Area. We are entirely up to date on all local building codes and regulations as they pertain to roofing. Why worry about hiring an out-of-town roofer who may not be up on the local codes? If they don't follow local codes, you could receive a citation and fine.
Our local experience also means that we have built up a reputation in your community over years of high-quality work. We obtain all the necessary permits needed before we start work and perform all our work to code. If you want to learn more about what your neighbors are saying about Eagle Watch Roofing, you can check our testimonials page.
Roofs Are What We Do
Roof work is not something that our professionals do on the side—it is our primary business. All our workers are thoroughly trained to repair, maintain, and replace any sort of roof. We work on traditional sloped roofs, flat roofs, and even unusual specialty roofs.
We do not operate out of a truck, nor do we cut corners. Communication with our customers is paramount, and we want our customers to know what to expect. Some roofers will start with an estimate, then hit you up for extra costs and add-ons. We work with our customers to draw up a written contract covering all of the work and all of the charges before we drive the first nail. Our contract includes the expected hours of labor, the estimated completion date, the type of materials to be used, and the cost of everything. You'll never be surprised when it comes time to pay Eagle Watch Roofing.
Remember, major roof repair is just not a DIY job. So for reliable, thorough, and expert roofing, don't hesitate to contact Eagle Watch Roofing.