When You Should Call Your Roofer Right Away
Because your roof protects your entire home from the elements, roofing is one area where knowing what constitutes an emergency is critical. In some situations, waiting to call your roofer can result in expensive and severe damage to your roof and home. Here are some roofing scenarios that require you to call your roofer right away.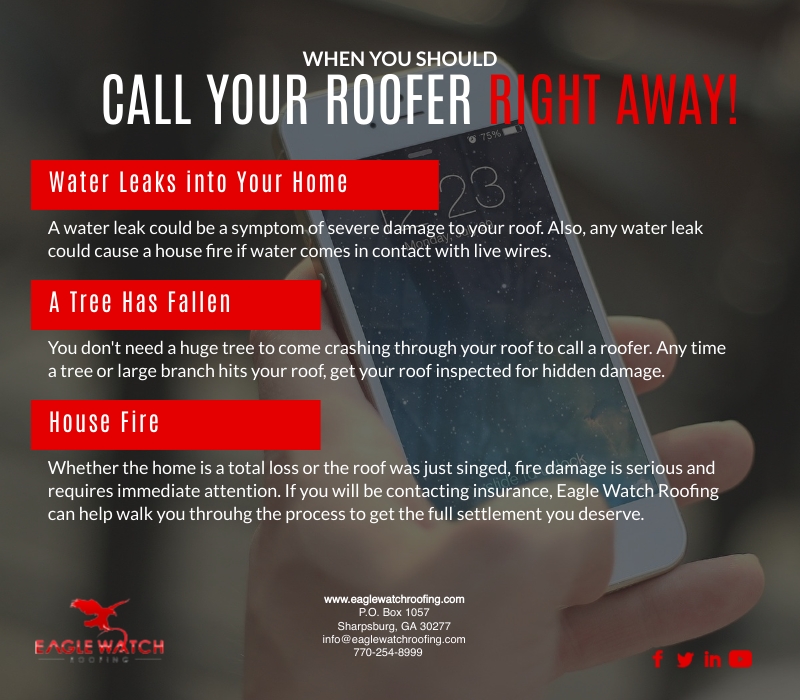 Water Leaks Into Your Home When It Rains
Whether your leaks are in the form of drops, trickles, or all-out flooding, a leaking roof requires immediate attention. A leak is considered an emergency because a leaky roof could cause an electrical short that starts a house fire. Also, a leak you notice inside your home is just a symptom of a larger problem. Most leaks are caused by a minor issue such as a failed vent pipe boot or a sealant that needs to be replaced. But without looking at your roof, there is no way to determine whether a leak is a minor problem or a serious threat to your roof. Consider a leak an urgent call to action that can prevent the loss of your home.
A Tree Has Fallen on Your House
Many homeowners assume that if the tree did not put a hole in the roof, then the roof is OK. The reality is that the tree may have caused unseen damage that has significantly weakened the roof's ability to withstand the next storm. For example, if the tree cracks the trusses, the next windy day could ultimately take the roof off the house. If the falling tree damaged the shingles, your roof might develop leaks that cause thousands of dollars in damage that otherwise would not have happened. Any time a tree or even a large branch falls on your roof, you should have your roof inspected as soon as possible. Don't wait until the next storm reveals hidden damage.
Your House Has Burned
Most people who have experienced a fire are grateful to escape with their lives and don't think about the roof. If the damage was only to part of the house, you need to have your roof inspected to ensure it is safe. Even if you won't be staying in your home, you should call your roofer right away. They can help you understand the costs involved in rebuilding the roof, which helps with your insurance claim. Emergency roof service in these circumstances usually means taking measures to prevent further damage to your home. It can take days, weeks, or even months for the insurance company to process your claim. During that time, some form of roof repair can help protect what remains of your property.
Final Thoughts
A roofing emergency does not necessarily mean that you need a new roof. It just means that your roof must receive immediate attention to prevent further damage to your home. Eagle Watch Roofing is here to help you assess your roof's needs and keep your home in good repair.