Tips to Prepare for a Roof Replacement
So you've decided it's time for a roof replacement. For most Americans, their home is their biggest single investment. And the most important part of your home, the part that protects everything else, is the roof. A new roof is a great long-term investment that will protect your home and everything in it. When you work with a reliable roofer, like Eagle Watch Roofing, we'll do almost all of the work for you. After all, it's our job. But there are things you can do to prepare for a roof replacement that will make the process smoother and safer for your family, your home, and your belongings.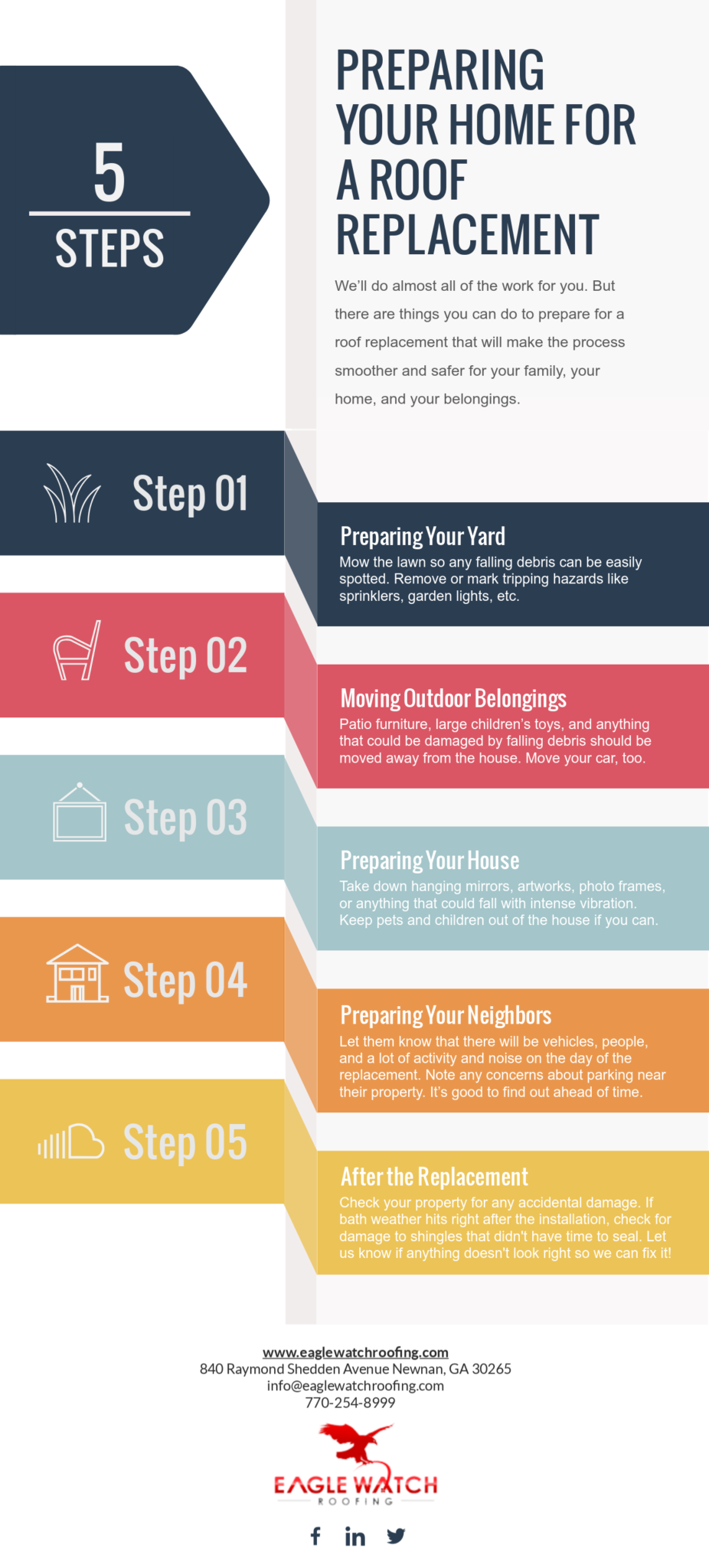 Preparing Your Yard
Your yard is going to see a lot of foot traffic during your new roof installation. Roofers will be moving through your yard all day, and you want them and your property to be safe. In addition, shingles, nails, and other debris will fall into your yard. Your roofers will place tarps to catch much of the debris and, of course, will direct most trash into a dumpster. But if there is anything in your yard that could be damaged by falling debris, it's best to get it out of harm's way.
One of the best things you can do is to mow your lawn. It may not seem important, but it will make a big difference during the cleanup phase. Your roofer will move around the whole perimeter of your house and clean up as much debris as possible. Keeping your grass short will speed up this process and ensure that we catch as much debris as possible.
It's also important to minimize tripping hazards. If you have anything protruding from your lawn, like sprinklers or yard lights, remove what you can and clearly mark what can't be moved. If you have any small children's toys, make sure they are stored indoors or away from your lawn. A good rule of thumb is to clear a 15-foot perimeter around your house. Anything it that area could be affected by falling debris. Roofers will also need access to that much area to access your roof from different angles.
If you have trees, bushes, or flower beds that are fragile, mark them and point them out to the roofing manager. You can tie a bright ribbon around a sapling or small bush. We will do our best to avoid sensitive plants and will cover any flower beds with tarps.
Moving Outdoor Belongings
Patio furniture, large children's toys or play structures, and anything else that could be damaged by falling debris should be moved well away from the house. Another important piece of property to protect is your car. The night before the installation will begin, park your car across the street or in front of a neighbor. Roofers will be bringing vans and other vehicles that need access to your home. Trucks may be making deliveries of materials. The roofers will also need to place a dumpster in your driveway. Keeping the area clear for vehicles and materials is crucial.
Don't park your car in your garage. If your garage is attached to your house, it will also be getting a new roof. Unlike the rest of your home, the garage probably doesn't have insulation or an attic. That means that debris, dust, nails, or anything else that falls from the roof will go straight down into the garage. If your car is parked there, it is right in the line of dust and debris. For that matter, don't store any of your outdoor furniture or other belongings in the garage. If you need to store some items in the garage, place a tarp over them. Your roofer may also be able to provide a tarp, but make sure to let them know.
Preparing Your House
Outside of your house, your main concern is access and falling debris. Inside your house, the main concern is the noise and vibration from all of that work on the roof. Your two primary concerns should be your family and pets who will have to live with all that noise and your belonging that will be rattling around.
First of all, let's discuss your family and any pets. Ideally, you should find somewhere else to be. This might be a good opportunity for a sleepover with family or friends. The loud noise and vibrations can be frightening for young children and just unpleasant for everyone else. Pets are especially sensitive and should be kept somewhere else if at all possible. If you can't find anyone else to house your pets for a day or two, keep them indoors and be prepared to do some extra comforting.
The next concern is your belongings. Anything on your walls should come down. If you have a hanging mirror, artworks, photo frames, or anything that could fall with intense vibration, just put it on the floor. If you have fragile items like china, porcelain figurines, or anything that could be easily chipped or cracked, make sure it is properly stored. That means making sure that items are not touching each other or the wall and are not stored in a place they could fall from. If you have floating shelves that are not tightly secured to the wall, take them down and place them and their contents on the floor.
Preparing Your Neighbors
That's right, you will need to get your neighbors involved. They don't have to do anything special, but it's a nice courtesy to give them a heads up. If you live on a quieter street, let them know that there will be vehicles, people, and a lot of activity and noise on the day of the replacement. Also, if they have any concerns about you or anyone else parking near their property, it's good to find out ahead of time. And if there is anywhere you don't want your roofer to park, let them know ahead of time. We follow basic parking laws and won't park in front anyone's driveway or private property. But we still like to know ahead of time if you have particular requests.
After the Replacement
Once it's all done and the roofers have cleaned up, you can uncover anything you've covered and put your belongings back in place. This is also your chance to go over the work and make sure that everything is to your satisfaction. At Eagle Watch Roofing, we strive to make every job a great one. As you can see from our testimonials, we have many happily satisfied customers. But part of excellent service is standing behind our work, so if anything is not to your satisfaction, we want to know so we can make it right.
Take a look at your roof and make sure that nothing looks off to you. If anything catches your eye, don't hesitate to call us back to take a look. Also, there are times that issues may creep up that are beyond our control. For instance, if you experience a severe storm shortly after the installation, take a look around for any loose shingles you can see. If a shingle didn't have time to properly seal before the storm, we may want to come back and fix it.
In addition to your roof, look around your property. We are very careful with your property, probably much more careful than you are. But if you notice a scuff on the driveway, worn down grass, or any damage to flowers, plants, or property, the sooner you notify us, the quicker we can get it fixed. We want every customer to be happy with their roof for many years to come.